4. srpen 2007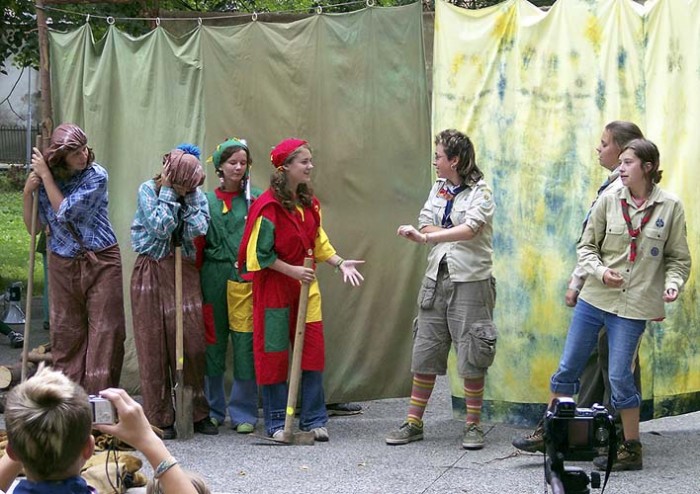 21. květen v 18:00
SKoK 2020 Poděbrady
březen 2020
Po
Út
St
Čt
Pá
So
Ne
1
2
3
4
5
6
7
8
9
10
11
12
13
14
15
16
17
18
19
20
21
22
23
24
25
26
27
28
29
30
31
duben 2020
Po
Út
St
Čt
Pá
So
Ne
1
2
3
4
5
6
7
8
9
10
11
12
13
14
15
16
17
18
19
20
21
22
23
24
25
26
27
28
29
30
květen 2020
Po
Út
St
Čt
Pá
So
Ne
1
2
3
4
5
6
7
8
9
10
11
12
13
14
15
16
17
18
19
20
21
22
23
24
25
26
27
28
29
30
31
Scouting is a school of citizenship through woodcraft – Lord Baden-Powell
Bylaws
Association of Scouts and Guides of The Czech Republic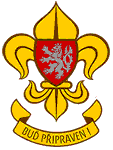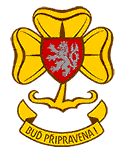 1. Basic regulations
1.1 Association of Scouts and Guides of The Czech Republic
(from now just the Association) is voluntary, independence and unpolitacal civil association established according to the law number 83/1990 Sb. as amaneded by the act. It associates its members without exeption of nationality, race, age, handicap and religion comformable with basic principle of scouting, given by promoter of scouting worldwide movement Roberte Baden-Powell and by his Czech follower Antonín B. Svojsík.
1.2 Seat, activity, an official language and an administrative period
The association's seat is Prague address: Pařížská 19/203, 110 00 Praha 1-Josefov. Activity relies to the Czech Republik, official language is Czech and aministrative period corresponds with the calendary year.
1.3 Sequence of Czechoslovak Republik Scout Association
Association connectes to activity and tradition of the Czechoslovak Republik Scout Association, which was founded after the formation of the Czechoslavak Republick on 7th June 1919, and that had to finish the activity on 11th December 1938 in consequence of intrapolitical changes after the Munich's events and that could not be regenerated after regeneration of the autonomy Czechoslovak Republik in May 1945 with respect to tendency to admit only activity so-called united federation of Czech youth (SČM).
1.4 Achievement of function
Achievement of officials' functions in the Association is voluntary without any financal or other material reward and it is incompatible with employment in the Association.
1.5 Statues and legal rules obligation
All Association members, organizational units and association organs adhere to their activity according to the Association Statutes, present Code and legal rules. All other kind of rules, directions and intraregulations have to be agreeable to the Association Statues and are valid after ratification by Association Headquarter.
1.6 Cooperation with other civil associations and organizations
Association plenary desides by four fifths majority of votes about the Association membership in another civil association with the similar mission as well as scout international and national organizations.
1.7 Basic Symbols
Association basic symbols are boy scout trade mark - lily with lion figure in ghotic sign and girl scout trade mark - trefoil on the flame with lion figure in ghotic sign.
2. The Association activity aims, means for realizing, scout education method
2.1 Association activity aims
Association activity aim is first for all to support harmionical education of children and teenagers also adults in a many-side way in respect of ethical, psychic, social and physical to grow up in responsible people with democratical opinions of their native country and europion community.
2.2 Means for realizing Association activity aims
Association attempts to realize activity aims by these means:
grouping younger members into divisions and sections
grouping adult members into RS sections and OS sections
by integration handicapped children we lead teenegers to be responsible to each other
by regular meetings, trips, camping in the nature, appointments and competitions
establish new scout-clubroom, camping sites and stable foundations
publicing activy
special lectures and courses for leaders
cooperation with other scout organizations in CR as well as in foreign countries
2.3 Scout education method
Scout education is founded on:
scout principals, promise and testament
learning by playing games and practising
activity in small groups about 6 - 8 members (divisions)
gradually accepted responsibility for other members in group
education to be independent and creative
self-control education
education to cooperate with other, gathering abillity to lead others
observance conditions grade of efficiency and special training
various programms of activity orientated to participals interests
living in the open and enviromental protection
servis to society
co-creative harmonic development person illustrated by exam
3. Scout movement principals, scout promise and testament, watchword and symbols
3.1 Scout movement principals
Worldwide Scout movement principals is founded on these basic principals:
to perform duties to God
to perform duties to fellows
to perform duties to myself
3.2 Boy-scout and Girl-scout law
Boy-scout is:
truthful
loyal and staunch
useful and helps others
goodwill people friend and brother of every scout
polite and considerate
nature and valuable artifact protector
parents, superiors,and leaders obedient
cheerfulness
thrifty
clean - in thinking, talking and acting
Girl-scout is:
truthful
loyal and staunch
useful and helps others
goodwill people friend and sister of every scout
polite and considerate
nature and valuable artifact protector
parents, superior,and leaders obedient
cheerfulness
thrifty
clean - in thinking, talking and acting
3.3 Scout's promise
"I promise upon my honour so I can do the best:
- to perform my duties to God and homeland,
- to perform my duties to myself and adhere scout's law
- to be ready to help fellow by my body and soul!"
3.4 Official's promise
"I promise upon my honour and conscience, that I will train fiduciary youth up inwardly in scout's law be aware of responsibility in face of God and human purpose."
3.5 Passwords
boy-scout "Be ready!"
girl scout: "Be ready!"
cubs: "Our effort be the best act!"
firelies: "Be better today than yesterday!"
rovers: "I am serving!"
old-scout: "I am serving!"
functionary: "Responsibility, reliability, loyality!"
3.6 Symbols
boy-scout: lily with lion figure
girl-scout: trefoil with lion figure
water bouy-scout: lily with lion figure underlayed with anchor
water girl-scout: trefoil with lion figure underlayed with anchor
cubs: wolf's head - firefies: starin trefoil
rovers: lily with lion figure supplemented with letters RS
old-scouts: lily with lion figure supplemented with letters OS
woobadge course: composition of three tee-pee in circle
series Skaut: lily in an open book
4. Membership
4.1 Association's membership is:
a) Individual b) Honorary
4.1.1 Teh origin of membership
a) individual membership A person without exeption of nationality can become a member. Association membership origins by entrance into any of basic organizational unit. The rules of entrance and procedure with registration of members modify organizational rules stem statutes. Each Association member is obliged to fill the membership form duly in. Signing membership form ratifies that he or she knows Association statues and agree with them and adhere by them. Legal representative signs the membership form on behalf of members younger 18.
b) honorary membership An Association Honour member can become a person whom was given honorary membership by act of honorary membership of Unit plenary. The rules and procedures to honour membership modify union organizational rules.
4.1.2 Extraordinary entrance
Association can provide existence of unique specialized units in any of relevant stem, or create a new stem according to condition given by unit organizational rules . These specialized units, can provide plenary adaptation of promise, testament and other.
4.2 Member's rights
Each Association member has right to:
participate on Association activity
to make proposals, suggestions and complaints to leader of basic organizational unit and Unit organs
wear a scout's uniform, badge and Association's labelling their useing are given in Association uniform regulation
4.3 Special rights
In case of membership Boy-scout and Girl-scout with difference religious can give the plenary agreement to modify promise and other followed documents.
4.4 Membership duties
a) each individual member has duty to:
be duly registred in any of basic oranizatioanl unit and pay membership benefits
respect the Association's mission, respect basic scout's movement principals, adhere Statues and take a promise
respect leader's basic oraganizational unit decision and all superior unit organs
b) each honorary member:
adhere the rules given for being honorary member in Association given fixed by unit organizational rules
4.5 Membership determination
Membership determine:
written notice of adult member or minor member's legal representative that he or she determines his or her membereship in unit membership, in which is registered
by the segregation according to unit organizational rules
by the death
not paying registered benefit for futher period given by plenary
5. Organizational structure and unit organs
5.1.1 The basic provision
Union organizational structure is consists of following units and organs:
basic organizational unit (ZOJ)
stems, controlled by its own chiefs
stem plenary
headquarter
board of management
unit plenary
audit commission
arbitrate commission
honourable section
5.1.2 Making decision of voted and named organs
Making decision of voted and named organs is always regulated by unit organizational rules and rules of procedures and fractional of units and organs organizational rules and rules of procedures.
5.2.1 The stems
Union is divided into stems:
boy-scout stem
girl-scout stem
rover stem
old-scout stem
other specific stems according to Association headquarter decision
5.2.2 The stem activity organization
Each stem adhere itself by its own statutes at activity, which has to correspond to union statutes and be authorized by stem plenary and union headquarter Stem controll chiefs, voted by stem plenary for three years. The number of chiefs membership nad competence in stem gives stem statute.
5.3.1 The basic organizational unit
The basic organizational unit (just ZOJ)
Boy-scout stem is a section, which associate boys in the age of 18
Girl-scout stem is a section, which associate girls in the age of 18
Rover stem is a section RS, which associate women and men in the age of 16 - 30
Old-scout stem is a section OS, which associate women and men
5.3.2 Leading of basic organizational units (ZOJ)
Each ZOJ is lead by person older 18 with the qualification given by Association. The way of delegation leader ZOJ and his competence in stem gives statute appropriate stem. Law responsibility is given appropriate law rules.
5.4.1 The plenary
The plenary is the highest Association organ. Mayor invokes it ones in three years. It can be invoked sooner rarely if chiefs of any stem or minimal one third of leaders ZOJ call for it. Rarely plenary has the same authority as regular plenary. The rules of discussion Association plenary are given in Association rules of procedures.
5.4.2 Plenary competence
The plenary:
Votes and determines: - board of management members
Signs and changes statutes
Signs and changes rules valid for whole Association, for all Association organizational rules and rules of procedures, and acredites board of management and headquarter to decide between plenries
Bears audit commossion members
Mentions members to honourable section taken by headquarter between plenary
Decides about Association participation into activity of another civil association
Decides about membership and resignation in national and international scout organizations
Decides about finishing activity of union
5.4.3 The right to be concerned on the plenary
The right to be concerned on the plenary has:
The leader and the other member of basic organizational unit
The unit functionary : mayor, vicemayor, agent, manager, chiefs and vicechiefs of each stems, honourable section's representative, and audit commission members
Qualifiers for voted and named function d. Invited guests
5.4.4 The right to vote on the plenary
On the plenary have to right to vote:
The leader and the other member of basic organizational unit
Chiefs of each stems
The mayor
The vicemayor
The agent
5.4.5 Acrediting to vote on the plenary
In case that delegate with right to vote can not take part in the plenary, he/she has to acredit another Association member in written form to supply and vote instead of him/her.
5.5 The board of management
The Board of management represents Association towards sivil servis, the other organizations and institutions and towards public. Board of management has these members: mayor, vicemayor, agent and manager. Is voted by plenary for three years. mayor is Association statutory representative and is competent to deal on behalf of organization.
5.6 The headquarter
The headquarter manages Association activity in period between plenaries and coordinate activity of each stem. The members of headquarter are from their position members of the board of management chief, vicechief of each stem with vote right. The other are audit commission representatives and honourable section representatives with consultative vote.
5.7 Audit commission
Imposition of audit commission is controling how union organs and other units manage money. Commission publishes audit about income from operations from the previous year till 30th April. Each stem is represented by one member in audit commission, who is named by chief of stem. President and vicepresident named Association headquarter.
5.8 Arbitrate commission
Arbirtrate commission deal with disagreements inside Association and gives its point of view to them.
6. Management principles
6.1 Association organs and units manangement
Association organs and ZOJ adhere their economy according to law rules and union internal direction.
6.2 Association property and budget making
Source of Association financial assets are:
Registred benefits of members
Profits from actions
grants
gifts
sponsor's dues
and othe sources Association Manager makes budget yearly for particular Association organswhich is dealtby board of management and approves headquarer.
6.3 The way how to have derived identity
Association identity arose by verdict of MV ČR č.j. AVS/1-3130/479 /90 and right to have derived identity for ZOJ . Institutor is Svaz skautů a skautek ČR (IČO 00540021).
6.4 Controlling of ZOJ management
ZOJ Management is controlled by Association audit commission.
7. Association Conclusion
7.1 Decision of Association conclusion
About Association conclusion decides by four fifth union plenary.
7.2 Association Conclusion of management
Association manager makes conclusion report about audit and property management, which approve audit commission and show it on plenary. Plenary decides about what to to with Association property.
In Prague 10.5. 2003
---
1679× 23. březen 2013 v 0:00